2016 Belgien
Selecteer uw taal / Select your language
Kommentar
Night of the Proms 2016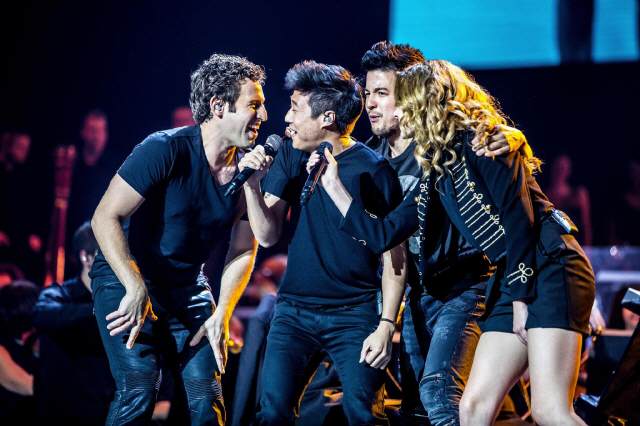 Das Sportpaleis öffnet seine Tore zum 32. Konzert seiner Art. Schwer bewaffnete Soldaten sicherten den Eingangs- und Backstagebereich. Pünktlich um 20:30 startete die Show und wir geben Euch einen ersten Einblick:

Nach einer opulent klassichen Offensive übernimmt Natasha Bedigfield das Zepter und führt mit dem Song `Unwritten´ die Leichtigkeit des Abend ein. Dies sollte neben Bizet´s `Carmen´ auch für lange, lange Zeit, die einzigen beschwingten Werke bleiben.

Es folgte schwere Kost auf qualitativ sehr hohem Nieveau:
Der Song `Soulmate´ - der im SCALA Sound dargebotene Charthit `Faded´ - die von Chaka Khan interpretierte James Bond Hymne `Diamonds are forever´ - die beiden Gershwin Werke und die Songs von Gabriel Rios, waren ohne Spannungsbogen aufbauende, aneinandergereite Meisterwerke der stillen Darbietung. Wir sehnten uns nach leichterer Kost und nach Uptempo Hits zum Mitsingen, Tanzen, Lachen,... Dies folgte nun in Gestalt von Tom Chaplin, u.a. bekannt als Leadsänger der Gruppe KEANE.

Eine Wohltat am Samstagabend waren die ersten Töne vom KEANE Megahit `Somewhere only we know´ und das David Bowie (Arid/Kolacny Brothers) Cover `Is there life on Mars´. Auch sein neuer, sehr persönlicher Hit `Quicksand´ kam beim Publikum sehr gut an. Tom Chaplin ist der Glücksfall bei den Proms 2016.


Im zweiten Teil der Show folgten weitere, sehr stille und nachdenkliche Momente, auf die wir nun nicht weiter eingehen werden. Der Konzerthimmel riss mit der Hymne der Proms `Music´ auf. Es folgten nun endlich, zum Schluss der Show, die Meilensteine der Stars. Jegliches Pulver wurde für den Schluss aufgehoben und ein Charthit folgte auf den nächsten: Tom Chaplin (KEANE) `Everybody´s changing´ Natasha Bedingfields `These words´, gefolgt auf Chaka Khans `Ain´t nobody´, gefolgt auf den einzigen Gabriel Rios Hit `Broad daylight´. Es wurde gefeiert und das Publikum wurde durch den genialen Mix auf einem Schlag überschüttet mit positiver Musik und frischer Energie.

Die Eurovision Teilnehmerin Laura Tesoro verfeinerte mit Ihrem Hit `What´s the pressure´ das nun folgende Finale für Chaka Khan. Vergaß sie noch bei `Ain´t nobody´ ihr Mikrophon, konnte sie nun bei `I feel for you´ und `I´m every woman´ ihre Bandbreite als Top Act ausschöpfen. Sie wirkte ein wenig unssicher auf der Bühne und wurde oftmals von den Backing Vocals The Pretty Vanillas übersungen. Nichtsdestotrotz waren die Songs eine Wohltat für den Abend. Der Konfettiregen beim Justin Timberlake Finale `Can´t stop this feeling´ waren ein sehr schöner Abschluss für die Proms 2016!


Videos Belgien 2016: