Geschichte

Kurzgeschichte

Die Idee zu der alljährlich im Herbst stattfindenden Tournee Night Of The Proms entstand 1985 anlässlich einer Studentenparty in Antwerpen. Sie sollte zuerst nur mit populärer Klassik, wie sie auf den Promenaden der britischen Seebäder unter dem Slogan "Last Night Of The Proms" gespielt wird, untermalt werden. Um jedoch allen Geschmäckern gerecht zu werden, wurden Pop-Evergreens darunter gemischt.

Die Resonanz auf diese Mixtur war so positiv, dass die Konzeption ab 1985 als Konzertveranstaltung an den Start ging. Mittlerweile wird THE NIGHT OF THE PROMS nicht nur europaweit (in Deutschland seit 1994) aufgeführt und gilt dort als eines der bestbesuchtesten Musik-Happenings, sondern kann auch immer mehr weltberühmte Gaststars aus der Rock/Pop- und Klassikbranche für sich gewinnen. Höhepunkte waren große Namen wie z.B. Sting, Mick Hucknall (Simply Red), James Brown, Andrea Boccelli, Mike Oldfield, Roxette oder auch Art Garfunkel und Joe Cocker.


Promenade concerts began at the end of the 18th century, and originally were held outdoors in London's pleasure gardens, where the audience was free to stroll around while the orchestra was playing. In 1927, the BBC took over producing the concerts, and it is now a yearly festival of mainly classical music in the UK, with the final night being broadcast in many countries around the world.
During their studies at Antwerp University in the 1980s, Jan Van Esbroeck and Jan Vereecke took on the challenge to organize a classical concert for their fellow students. When compiling the program, they decided to add contemporary (pop) music to the concert in an effort to increase the appeal of their show. Inspired by the atmosphere that reigns at the 'BBC Last Night of the Proms', they dubbed their concert 'First Night of the Proms – classic meets pop'. It took place on October 19th 1985, in front of more than 13,000 music lovers at the Antwerp Sportpalace.

Based on the incredible success of their first show, they decided to do 2 shows in 1986, which both sold out. In 1990, they were asked to produce a Night of the Proms-show in Apeldoorn, Holland, and the success caught the attention of Heineken. Between 1991 and 1998, numerous 'Heineken Night of the Proms' took place in Rotterdam, Zurich and Madrid, and the increased number of shows gave way to the booking of international talent; Joe Cocker, Christopher Cross and Jennifer Warnes in 1992, Sting, Gary Brooker and Colin Blunstone in 1993, and Toto and Paul Young in 1994.
By 1995, the Night of the Proms -tour had grown to 20 shows in 5 countries, with such artists as Bryan Ferry, Al Jarreau, Roger Hodgson from Supertramp, and a then unknown blind tenor from Italy : Andrea Bocelli, who rose to stardom overnight. Bocelli used a recording of his duet 'Miserere' with John Miles from Night of the Proms on his 'Romanza'-album that sold 20 million copies worldwide, and is considered his breakthrough album, launching his career worldwide. Bocelli also made a surprise appearance on the 1996 Night of the Proms tour in Antwerp, to thank the Antwerp audience for their warm support.

Langgeschichte

Jan Van Esbroeck war Student der Betriebswirtschaft an der Universität in Antwerpen. 1984 hatte er die Idee zu einem klassischen Semester-Abschlusskonzert nach dem Vorbild der `Last Night of the Proms´ in Londen.
Mit seinem Freund und Kommilitone Jan Vereecke gründete er zu diesem Zweck die Firma Prommusic.
In Zusammenarbeit mit dutzenden, freiwilligen Studenten stampfte man aus einem schäbbigen 20qm großem Büro die erste Proms über Nacht aus dem Boden. Mit dem nötigen Mut wurden erste Sponsoren gesucht und gefunden (WANG, Toyota,...). Das finanzielle Risiko wurde hierdurch minimiert.

Und dann geschah dass, was Skeptiker nicht für möglich gehalten haben: Am 19. Oktober 1985 genossen 13.500 Musikliebhaber im Antwerpener Sportpalast die `First Night of the Proms´. Jan Vereecke holte dazu John Miles persönlich vom Flughafen in Brüssel ab. Leider fehlte die Gitarre, über die im Vorfeld nicht gesprochen wurde.
Die Reaktionen auf das neue Konzept aus Klassik und Pop waren so überwältigend, dass die Veranstalter Jan & Jan nicht anders als mit dieser Initiative fortsetzen konnten. Seitdem konnte man viele unvergessliche musikalische Momente in Europa erleben.

Zufriedene Besucher brachten von Jah zu Jahr mehr Besucher mit. Die Mundpropaganda lief sehr erfolgreich.

1996 marked the start of a 15-year collaboration with Nokia in Germany, Austria and Denmark with the 'Nokia Night of the Proms' establishing itself as leading cultural brand, and resulting in further growth in Europe. Simple Minds in 1997, Lisa Stansfield and Level 42's Mark King in 1998, Status Quo, Zucchero and Natalie Choquette in 1999, and Chrissie Hynde and UB40 in 2000 provided for unforgettable musical highlights for thousands of loyal music lovers.

This unique combination of classical and pop music attracts performers from all genres, and audiences of all ages and musical taste to participate at the shows, and to date, well over 9,000,000 people have attended one of the 800+ shows since its inception in 1985. Since the start of the new Millennium, James Brown, Meat Loaf, Michael McDonald, Shaggy, Mick Hucknall, Seal, David Garrett, Sinead O'Connor, Robin Gibb, Donna Summer, The Pointer Sisters, Nile Rodgers & Chic, Macy Gray, Tears For Fears, Gloria Estefan, Toto, Foreigner, and many more artists have enjoyed public acclaim and musical fulfillment during their participation.

Since 1991, Il Novecento, Robert Groslot, Fine Fleur and the Electric Band, supervised by John Miles have proven to countless music lovers that classical music can be as powerful and enjoyable as pop and rock music, and to often skeptical performers that a symphonic orchestra can really 'rock' !



Night of the Proms began as a student-like activity

The idea for the Night of the Proms was developed in 1984 by two Belgian students, Jan Van Esbroeck en Jan Vereecke. With the English 'Last Night of the Proms' in mind, they decided to organize the 'First Night of the Proms' in the Antwerp Sportpaleis.
Because an evening with only classical music would perhaps not go down well with everybody, a section with pop classics was added to the programme. What sceptics had not deemed possible, happened on the 19th of October 1985: Jan and Jan welcomed 13,.500 music lovers, among whom were many non-students.
The concept of classical music combined with pop was a great success. The reactions of press and audience were so overwhelming that the organizers could not but continue. Year after year, there were more concert nights, and in 1990, the Night of the Proms was exported to Holland for the first time. Germany followed suit in 1994. There were also concerts in France, Switzerland, Austria and Denmark and nowadays concerts are also given in the French speaking part of Belgium (Charleroi) and Spain.

An all-singing, all-dancing celebration of music through the ages

If you are looking for a fun-guaranteed and musical night out in a unique concept, then Night of the Proms is definitely the place to be!
Night of the Proms is one of the most visited and most attractive musical events in Belgium and in Europe. It takes the audience on a journey through rousing and familiar classical repertoire, timeless pop classics, sing-along tunes and get-up-and-dance music, all of this backed by a mind-blowing visual and aural setting.
The regular Night of the Proms orchestra Il Novecento conducted by Robert Groslot, a choir and an Electric Band lead by John 'Music' Miles play music from the last three centuries in such a joyful manner and with such verve, that everybody is carried away by their delightful performances. They also accompany international pop artists who enrapture the very lively audience with their greatest hits. Young and old uninhibitedly swing to the beat.
Yes indeed, the idea of Night of the Proms was inspired by the British Last Night of the Proms. Many years ago, two Flemish students gave it their own twist by adding contemporary music and popular artists to the programme. The new and very original concept of 'Classic meets Pop' was born.

Night of the Proms: a fabulous musical spectacular

The first Night of the Proms concert was staged at the Antwerp Sportpaleis in October 1985 and welcomed 13,500 music lovers. The event turned out to be a huge commercial and critical success that grew in popularity, year on year. Word spread about the innovative mixing of classical music and pop evergreens, the audience got more and more diversified and from 1990 onwards the event also started to push back frontiers.
Nowadays Night of the Proms plays several shows in autumn in Belgium (reaching 15,000 people per night in Antwerp), The Netherlands (Rotterdam) and several cities in Germany.
What began as a student-like activity is now a permanent fixture for hundreds of thousands. Since 1985, more than 9 million visitors attended the shows and witnessed many unforgettable musical moments. The tremendous success of Night of the Proms made it possible to attract famous pop stars to be part of this fabulous musical spectacular. Artists such as Joe Cocker, Simple Minds, Status Quo, Meat Loaf, Zucchero, Sting, Roger Hodgson (ex-Supertramp), Bryan Ferry, UB40, Chrissie Hynde, Andrea Bocelli, Al Jarreau, Chris de Burgh, Toto, Alan Parsons, Art Garfunkel, Deborah Harry, Wet Wet Wet, Level 42's Mark King, Lisa Stansfield, Coolio, James Brown, Shaggy, Ike Turner, The Pointer Sisters, Roger Daltrey, Donna Summer, Safri Duo, Tears For Fears, Texas and many, many others have been accompanied by the Night of the Proms' orchestra and choir and shared their love of music with people of all ages and of different musical persuasions.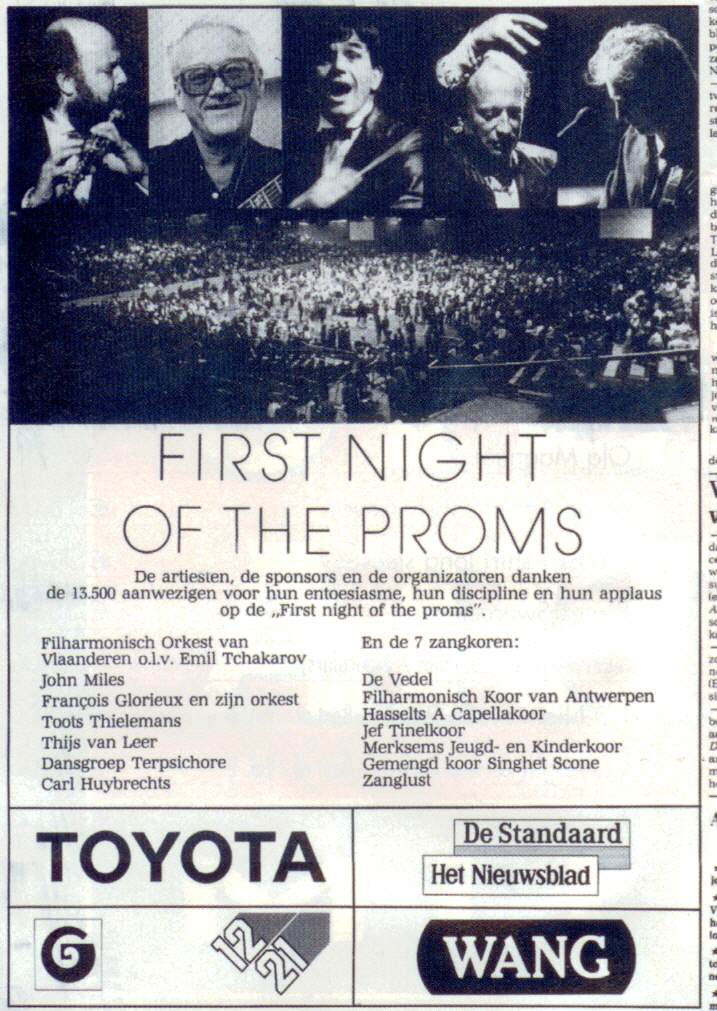 Fakten zum Spektakel:




1985:
Zuschauer: 13.500
1 Konzert (1xB (Antwerpen))
Künstler: John Miles, Thijs van Leer (Flöte), Toots Thielemans (Mundharmonica)
The one and only John Miles ist beim ersten Konzert der NOTP dabei .
Ohne Gitarre wird er am Brüsseler Flughafen von Jan Vereecke abgeholt


1986:
Zuschauer: 26.000
2 Konzerte (2xB (Antwerpen))
Künstler: Angelo Branduardi, Theo Mertens (Trompete), Harry Saksioni (Gitarre)


1987:
Zuschauer: 30.000
2 Konzerte (2xB (Antwerpen)), 13500 Liter Bier!
Künstler: Art Garfunkel, Emma Schmidt, Robert Groslot (Piano)
Ein Mann am Klavier: Robert Groslot zum ersten Mal bei der NOTP


1988:
Zuschauer: 43.000
3 Konzerte (3xB (Antwerpen))
Künstler: Al Stewart, Konstantin Stoianov (Violine)


1989:
Zuschauer: 45.000
3 Konzerte (3xB (Antwerpen))
Künstler: Art Garfunkel, John Miles, Theo Mertens (Trompete), Belgische Balettschule
Ein Best-of Konzert mit Künstlern der letzten 5 Jahre (Best of Five)


1990:
Zuschauer: 60.500
4 Konzerte (3xB / 1xNL)
Künstler: Alan Parsons Project, The Flying Pickets, Nicole Croisille
Erster Live-Auftritt von Alan Parsons überhaupt, erstes NOTP Konzert in Holland (Apeldoorn)


1991:
Zuschauer: 65.000
4 Konzerte (3xB / 1xNL )
Künstler: Beverley Craven, Randy Crawford, Steve Harley, Roger Hodgson (Supertramp), Daniël Blumenthal (Piano), John Miles
Das Orchester Il Novecento und Dirigent Robert Groslot halten zum ersten Mal Einzug und sind seitdem fester Bestandteil der Proms. Erstes Konzert in Rotterdam (Ahoy)


1992:
Zuschauer: 75.500
5 Konzerte (3xB / 2xNL)
Künstler: Christopher Cross, Jennifer Warnes, Joe Cocker, John Miles, Theo Mertens (Trompete)


1993:
Zuschauer: 125.500
8 Konzerte (5xB / 3xNL)
Künstler: Sting, Gary Brooker, Colin Blunstone, Barry Ryan, Will Tura, Luc Ponet (Orgel)
Erstes Konzert in Maastricht (MECC)


1994:
Zuschauer: 149.000
10 Konzerte (6xB / 3xNL / 1xD)
Künstler: Toto, Paul Young, John Miles, Björn Again, Manuel Barrueco (Gitarre), Belinda Carlisle
Erstes Konzert in Deutschland (Dortmund)


1995:
Zuschauer: 254.500
20 Konzerte (8xB / 7xNL / 2xD / 1xCH / 1xESP / 1xF)
Künstler: Andrea Bocelli (Tenor), Bryan Ferry (Roxy Music), Al Jarreau, Roger Hodgson (Suptertramp), John Miles
Die Proms verdoppeln fast die Zuschauerzahlen durch Konzerte in der Schweiz (Zürich), Spanien (Madrid), Frankreich (Lille) und ein zweites Konzert in Deutschland (München)


1996:
Zuschauer: 329.000
25 Konzerte (12xB / 8xNL / 2xD / 1xCH / 1xESP / 1xF)
Künstler: Joe Cocker, Dani Klein (Vaya Con Dios), Tony Hadley (Spandau Ballet), Guo Yue (Bambusflöte), (Oleta Adams in NL)
NOKIA wird deutscher Sponsor und die Veranstaltung erhält die Auszeichnung `Goldene Kamera´


1997:
Zuschauer: 420.000
32 Konzerte (15xB / 10xNL / 5xD / 1xCH / 1x AUT)
Künstler: Simple Minds, Deborah Harry (Blondie), Alan Parsons, John Miles, (Coolio in NL), (Paul Young in D)
Erstes Konzert in Österreich (Wien) und weitere Konzerte in Deutschland (Frankfurt)


1998:
Zuschauer: 425.000
32 Konzerte (15xB / 10xNL / 6xD / 1xAUT)
Künstler: Wet Wet Wet, Lisa Stansfield, Mark King (Level 42), John Miles, Ole Edvard Antonsen (Trompet)
Erstes Konzert in Köln mit dem Special Guest `De Höhner´. Zudem erstes Konzert in Bremen


1999:
Zuschauer: 446.000
36 Konzerte (17xB / 8xNL / 9xD / 1xCH / 1xDÄN)
Künstler: Status Quo, Zucchero, Emilia, John Miles, Clouseau, Purple Schulz
Erstes Konzert in Dänemark und Special Konzert in Saarbrücken


2000:
Zuschauer: 455.000
37 Konzerte (16xB / 11xNL / 9xD / 1xCH)
Künstler: UB40, Chrissie Hynde (Pretenders), Coolio, Howard Jones, Alessandro Safina (Tenor), (John Miles in Köln)
Erstes Konzert in Stuttgart und Oberhausen


2001:
Zuschauer: 562.000
49 Konzerte (23xB / 12xNL / 13xD / 1xF)
Künstler: Meat Loaf,(Chris de Burgh in D), Martin Fry (ABC), John Miles, Karl Jenkins (Adiemus),(Marco Borsato in B), (Gloria Gaynor in F), (Laith Al-Deen in D)


2002:
Zuschauer: 620.000
53 Konzerte (24xB / 14xNL / 15xD)
Künstler: Simple Minds, Foreigner, The Pointer Sisters, John Miles, David Garrett (Violine), (Michael McDonald in NL), (Alphaville in D), (Cutting Crew in D), (Kiki Dee in B), (Bonnie Tyler in NL),
Nach der tragischen Absage vom Top Act Roxette wurden kurzfristig die Simple Minds ins Programm genommen


2003:
Zuschauer: 661.200
63 Konzerte (23xB / 14xNL / 18xD / 8xF)
Künstler B: Toto, INXS, En Vogue, Xuefei Yang (Gitarre), John Miles
Künstler NL: Toto, INXS, En Vogue, Xuefei Yang (Gitarre), Ilse DeLange, John Miles,
Künstler D: Toto, Huey Lewis, En Vogue, Galileo, John Miles
Künstler F: Randy Crawford, Florent Pagny, Cunnie Williams, Julie Zenatti, David Garrett (Violine), John Miles


2004:
Zuschauer: 675.000
62 Konzerte (22xB / 13xNL / 17xD / 10xF)
Künstler B: James Brown, Joe Cocker, Shaggy, John Miles, Damian (Panflöte), Tony Hadley (Spandau Ballet), Natalie Choquette, Roger Hodgson (Supertramp), Zucchero
Künstler NL: Joe Cocker, Cyndi Lauper, Shaggy, Damian (Panflöte), John Miles
Künstler D: Joe Cocker, Roger Hodgson (Supertramp), Shaggy, DJ Bobo, Damian (Panflöte)
Künstler F: Natalie Choquette, John Miles, Roger Hodgson (Supertramp), The Pointer Sisters, Patrick Fiori, Roch Voisine


2005:
Zuschauer: 650.000
61 Konzerte (20xB / 12xNL / 18xD / 10xF / 1xLUX)
Künstler B: Donna Summer, Roger Daltrey (The Who), Ace Of Base, John Miles, Safri Duo (Percussions)
Künstler NL: Seal, Roger Daltrey (The Who), Chico & The Gypsies (Gipsy Kings), Frank Boeijen, John Miles, Safri Duo (Percussions)
Künstler D: Roger Daltrey (The Who), Manfred Mann & Chris Thompson, Midge Ure (Ultravox, Visage), Nubya, John Miles, Safri Duo (Percussions)
Künstler F: Zucchero, Natasha St Pier, Chico & The Gypsies, Chimène Badi, John Miles, Damian (Panflöte)


2006:
Zuschauer: 650.000
59 Konzerte (19xB / 13xNL / 18xD / 9xF)
Künstler B: Texas, Tears for Fears, Ike Turner, Tony Henry, John Miles
Künstler NL: UB40, Tears for Fears, Ike Turner, Ruth Jacott, Tony Henry, John Miles
Künstler D: Mike Oldfield, OMD, Chico & The Gypsies (Gipsy Kings), Ike Turner, Miriam Stockley, Tony Henry (Tenor), John Miles
Künstler F: Tina Arena, I Muvrini, Mimie Mathy, Jenifer, Anggun, Faudel, John Miles


2007:
Zuschauer: 600.000
56 Konzerte (15xB / 11xNL / 19xD / 9xF / 2xESP)
Künstler B: CHIC feat. Nile Rodgers, Macy Gray, Soulsister, Kid Creole & the Coconuts, Roby Lakatos, John Miles
Künstler NL: Donna Summer, Macy Gray, Kid Creole & the Coconuts, Di-rect, Roby Lakatos, John Miles
Künstler D: PUR, Paul Carrack (Mike & The Mechanics), Soulsister, Roby Lakatos, John Miles
Künstler F: Tears for Fears, Lara Fabian, Murray Head, Christopher Willem, Tony Henry, John Miles
Künstler ESP: Mike Oldfield, Tears for Fears, Rosa Cedrón, Chico & The Gypsies (Gipsy Kings), Tony Henry, John Miles


2008:
Zuschauer: 500.000
50 Konzerte (17xB / 11xNL / 20xD / 2xESP)
Künstler B/NL: Simple Minds, LIVE, Sinéad O´Connor, Midge Ure, Igudesman & Joo, Angels in Harlem Choir
Künstler D: Robin Gibb (Bee Gees), Tears For Fears, 10cc, Kim Wilde, Dennis DeYoung (Styx), Igudesman & Joo, Angels in Harlem Choir
Künstler ESP & Chrleroi: Simple Minds, OMD, Alan Parsons, Galileo, Miguel Ríos


2009:
Zuschauer: 500.000
42 Konzerte (15xB / 09xNL / 20xD)
Künstler B/NL: Roxette, OMD, Sharon den Adel (Within Temptation), Toots Thielemans, Katona Twins, John Miles
Künstler D: Roxette, Alan Parsons, Heaven 17, Christina Stürmer, Katona Twins, John Miles
Künstler Charleroi: CHIC feat. Nile Rodgers, Alison Moyet, Midge Ure, Gérard Lenorman, Igudesman & Joo


2010:
Zuschauer: 400.000
37 Konzerte (10xB / 07xNL / 20xD)
Künstler B/NL: John Fogerty, Grace Jones, Boy George, Barry Hay (Golden Earring), Charlie Siem, John Miles
Künstler D: Cliff Richard, Boy George, Kid Kreole & The Coconuts, Lichtmond, Charlie Siem, John Miles
Künstler Charleroi: Sharleen Spiteri (Texas), Kim Wilde, Laurent Voulzy, DIV4S


2011:
Zuschauer: 350.000
36 Konzerte (08xB / 05xNL / 21xD / 01xDK / 01xLUX / 1x Special)
Künstler B: Seal, Mick Hucknall (Simply Red), Angie Stone, John Miles, DIV4S
Künstler NL: Mick Hucknall (Simply Red), James Blunt, Angie Stone, Miss Montreal, John Miles, DIV4S
Künstler D: Seal, Alison Moyet, Nile Rodgers & CHIC, Stanfour, John Miles, DIV4S
(Künstler Kiel: OMD, Kim Wilde, Freddy Sahin-Scholl (Galileo), John Miles, DIV4S)
Künstler DK: Simple Minds, Kim Wilde, DIV4S, John Miles, Allan Olson
Künstler LUX: Seal, Alison Moyet, Nile Rodgers & CHIC, Stanfour, John Miles, DIV4S


2012:
Zuschauer: ???
35 Konzerte (07xB / 05xNL / 19xD / 01xLUX / 03x Schweden)
Künstler B: The Jacksons, Anastacia, Ozark Henry, Naturally 7, John Miles, Remy van Kesteren
Künstler NL: The Jacksons, Anastacia, Glennis Grace, Naturally 7, John Miles, Remy van Kesteren
Künstler D: Mick Hucknall (Simply Red), Anastacia, Jupiter Jones, Naturally 7, John Miles, Remy van Kesteren
Künstler SW: (Art Garfunkel), Anastacia, John Miles, Tony Henry, Måns Zelmerlöw
Künstler LUX: Mick Hucknall (Simply Red), Anastacia, Jupiter Jones, Naturally 7, John Miles, Remy van Kesteren

2013:
Zuschauer: ???
?? Konzerte (07xB / 06xNL / 18xD / 01xLUX)
Künstler B: Gloria Estefan, Amy Macdonald,Wyclef Jean (Fugees), John Miles, Hiromi
Künstler NL: Gloria Estefan, Amy Macdonald, Wyclef Jean (Fugees), John Miles, Hiromi
Künstler D: Morten Harket (a-ha), Amy Macdonald, Mark King (Level 42), The Baseballs, John Miles, Hiromi
Künstler LUX: Morten Harket (a-ha), Amy Macdonald, Mark King (Level 42), The Baseballs, John Miles, Hiromi

2014:
Zuschauer: ???
?? Konzerte (?xB / ?xNL / 17xD / 01xLUX / 04xUSA / 01x PL)
Künstler B: Hooverphonic, Blue, CeeLo Green, Sam Sparro, John Miles, Ksenija Sidorova
Künstler NL: Katie Melua, CeeLo Green, Nile Rodgers feat CHIC, Bo Saris, John Miles, Ksenija Sidorova
Künstler D: Zucchero, Katie Melua, Marlon Roudette, Madeline Juno, John Miles, Ksenija Sidorova
Künstler LUX: Zucchero, Katie Melua, Marlon Roudette, Madeline Juno, John Miles, Ksenija Sidorova
Künstler PL: Amy Macdonald, OMD, Coolio, Natalia Kukulska, DIV4S, John Miles
Künstler USA: Michel McDonald, Kenny Loggins, The Pointer Sisters, Nile Rodgers, Jöhn Miles, Natalie Choquette,
Erste Konzerte in den USA, PRG Live Entertainment Award für Deutschland, Mid-America EMMY® Awards für USA

2015:
Zuschauer: ???
?? Konzerte (?xB / ?xNL / ?xD / 1xLUX / 0xUSA / 01x PL)
Künstler B:
Künstler NL:
Künstler D:
Künstler LUX:
Künstler PL:

2016:
Zuschauer: ???
27 Konzerte (4xB / 4xNL / 16xD / 1xLUX / 0xUSA / 01x PL / 01xSWE)
Künstler B: Chaka Khan, KEANE vocalist Tom Chaplin, Natasha Bedingfield, Gabriel Rios, Laura Tesoro, Time For Three (Streicher), John Miles
Künstler NL: Chaka Khan, KEANE vocalist Tom Chaplin, Natasha Bedingfield, Gabriel Rios, Leona Philippo, Time For Three (Streicher), John Miles
Künstler D: Simple Minds, Ronan Keating, Natasha Bedingfield, Stefanie Heinzmann, Time For Three, John Miles
Künstler LUX: Simple Minds, Ronan Keating, Natasha Bedingfield, Stefanie Heinzmann, Time For Three, John Miles
Künstler PL: Zucchero, Simple Minds, Lisa Stansfield, Blue Cafe, Jennifer Pike (Violine), John Miles
Künstler SWE: Zucchero, Simple Minds, Lisa Stansfield, Jill Johnson, Anna Tifu (Violine), John Miles
Künstler USA: Michael Bolton, Wynonna, Wang Chung, Kansas vocalist Steve Walsh, Fernando Farela (Tenor), John Miles

Konzertabsage in den USA, erneutes Konzert in Schweden seit 2012, Konzertstandort Berlin wird nicht mehr berücksichtigt, nur drei Shows in Antwerpen, neuer Konzertstandort in Hasselt, nur 45 Minuten special im belgischem TV, kein Radiokonzert beim WDR zu Weihnachten

2017:
Zuschauer: ???
26 Konzerte (4xB / 4xNL / 16xD / 1xLUX / 1x PL)
Künstler B:
Künstler NL:
Künstler D:
Künstler LUX:
Künstler PL:

Zweites Konzert in Polen (Warschau) abgesagt, UB40 als Headliner in Polen ausgefallen (OMD springen ein), nur 60 Minuten Proms Konzert aus Deutschland im TV,

2018:
Zuschauer: ???
20 Konzerte (2xB / 1xNL / 16xD / 1xLUX)
Künstler B:
Künstler NL:
Künstler D:
Künstler LUX:

Keine Pressekonferenzen mehr / nur 2 Konzerte im Heimatland / Proms back on track / Erfolg in Deutschland ungebrochen